Osteoporosis & Nutrition – The Key Vitamins & Minerals Your Body Needs
Osteoporosis is a condition where bones become thin, weak and porous. It can slowly reduce your bone density over time without signs or symptoms.
Important Osteoporosis Facts:
2 million Canadians are affected by osteoporosis
At least 1 in 3 women and 1 in 5 men will break a bone due to osteoporosis in their lifetime
Fragility fractures represent 80% of all fractures in menopausal women over the age of 50
Fractures from osteoporosis are more common than heart attack, stroke and breast cancer combined
Source: Osteoporosis Canada 2021 www.osteoporosis.ca
Two key vitamins/minerals can help to manage your osteoporosis:
Calcium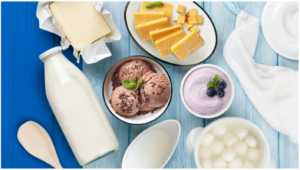 Consume enough calcium daily. Use the table below to determine your daily calcium needs*:
Table courtesy of Dietitians of Canada, 2016
The best sources of calcium are dairy products including:
Calcium-fortified non-dairy products such as calcium-fortified orange juice and other plant-based alternatives such as soy, oat, nut and rice beverages are also sources of calcium, as well as some vegetables, fruits, beans, fish and meat alternatives.
If you are not able to consume enough calcium from food, consider taking a calcium supplement. Calcium citrate supplements can be taken with or without food. For maximum absorption, do not take more than 500 mg of calcium in a single dose.
Vitamin D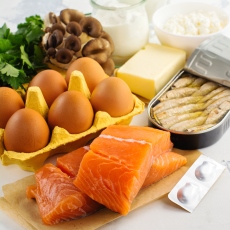 Your body needs sufficient vitamin D daily (800 – 2000 IU) to absorb and use calcium. The best food sources of vitamin D are fish (wild salmon, mackerel, canned light tuna, herring, and sardines), egg yolks and milk. If your diet does not regularly include these foods, a vitamin D3 supplement of 400 IU or more may be in order.
For more information on how to eat to keep your bones as strong as possible, you are welcome to book an appointment with our registered dietitian to develop an eating plan that is based on your specific needs.
Source: Dietitians of Canada – Eating Guidelines for Osteoporosis 2018
Donna Najdovski, RD November 2021