We know that an adequate intake of calcium and vitamin D is very important in the dietary management of osteoporosis.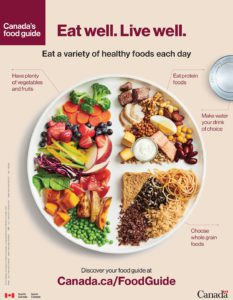 However, there are other nutrients that also play a role in promoting bone health and overall good health. Following Canada's Food Guide is a good way to ensure you are getting all the nutrients you need to promote strong bones and good health at the same time.
Protein
Protein, from animal or plant sources is needed for bone health. Protein gives bone its strength and flexibility. It is also a large component of our muscles, which are very important for mobility and preventing falls.
Protein is found in peas, beans and lentils, nuts and seeds and their butters, soy products like tofu and soy beverage, meats, fish, poultry, eggs, milk, cheese, and yogurt. Grains, vegetables, and fruit also add small amounts of protein to your diet.
Plan your meals based on Canada's Food Guide https://food-guide.canada.ca
Include protein at all your meals.
Fill ¼ of your plate with protein foods
Choose plant-based protein foods more often
Vegetables and Fruits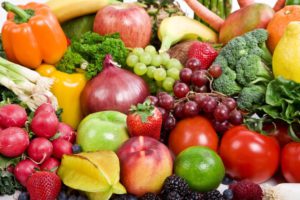 Vegetables and fruits are also important for healthy bones. They contain many nutrients that support bone health, including vitamin C, vitamin K, potassium, magnesium, phytoestrogens and antioxidants. It is recommended that adults consume at least 7 servings of vegetables and fruits every day. Choose whole fruit over fruit juice more often as fruit juice is high in sugar and low in fibre.
Choose fruits and vegetables in a variety of colors. Regularly choose orange and dark green vegetables.

Chart Courtesy of Dietitians of Canada – Eating Guidelines for Osteoporosis 2018
Eating well and being active are both important for bone health. Eating a healthy diet will give you the energy to do activities that will also promote bone health.
For more information on how to eat to keep your bones as strong as possible and promote overall good health, you are welcome to book an appointment with our registered dietitian to develop an eating plan that is based on your specific needs.
Sources: Osteoporosis Canada 2021 www.osteoporosis.ca & Dietitians of Canada – Eating Guidelines for Osteoporosis 2018
Donna Najdovski, RD          December 2021